Summer school adds a month of learning for 3,000 Joplin students | Local News
[ad_1]

About 3,000 Joplin schoolchildren are hitting the books and having fun as summer school kicked off on Wednesday.
Jaxon Friend, 6, said he and his friends played with a parachute on their first day of summer school at Joplin's Irving Elementary School.
"I got to fly it up high, and I got to get up under there and switch spots with someone else," said Jaxon, who will be a first grader next school year. "I hope there's a Lego camp because I really like Legos."
Noah Hudelson said his mom made him come to summer school, but she didn't have to work too hard to convince him.
"I was looking forward to hanging out with my friends and learning some things over the summer time," said Noah, 10, who will be a fifth grader in August. "If you're not in summer school, you don't get to hang out with your friends. I think it's important because it keeps that friendship together throughout life."
Jaxon and Noah were two of about 440 students continuing their education for an extra month in the summer school session that started this week, according to Irving Principal Jordan Adkins.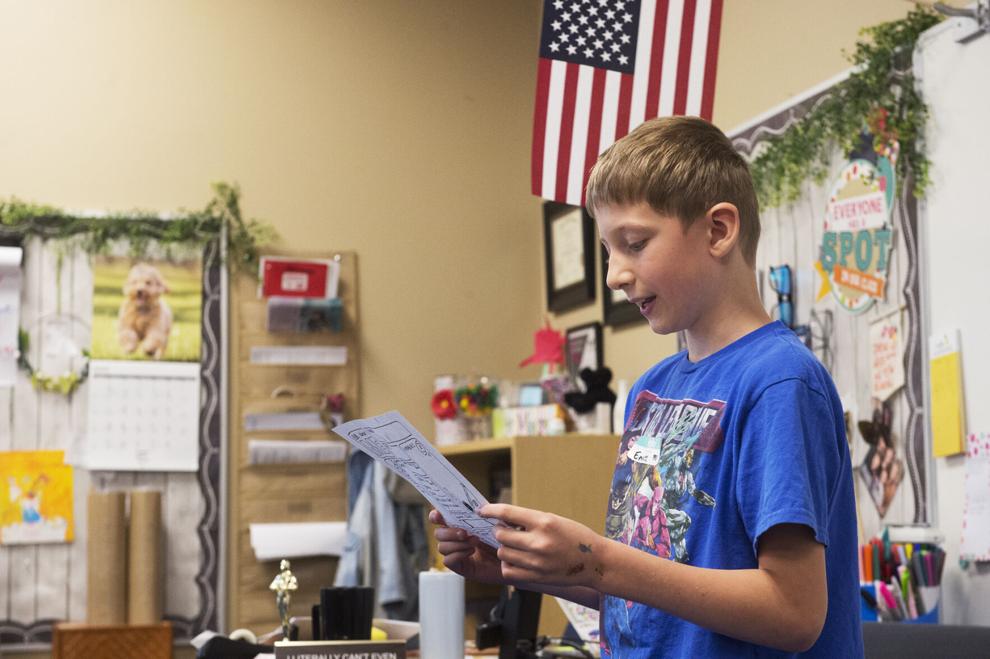 "We're having a ton of fun," Adkins said. "It's a full house, and my goodness, it's awesome."
Adkins said students are spending the first half of their day in class, or physical education or other school programs. The second half is dedicated to learning through fun in a summer camp atmosphere.
"Every day students get two hours of different activities," Adkins said. "It could be STEM activities, it could be some nature or plant activities, some engineering or Lego building activities. Students still get music and PE, and they get the core subjects of reading, writing and math."
Camp concepts
Sarah Mwangi, assistant superintendent of learning services, said she spent Wednesday morning touring the schools hosting summer school to see how the first day was going.
Mwangi said more than 3,000 of the district's nearly 8,000 students enrolled in summer school.
"The theme this summer is 'Work Hard to Play Hard,' so they will be engaged in core content for half of their day and they will be engaged in a camp theme at the elementary level for the second half of their day," she said. "… They start that camp theme next week, so we have anything from engineering to cooking and table etiquette to camp survival where they have to produce different things to survive in different environments. The teachers have really done a fantastic job giving our students an opportunity to do some project-based learning."
Mwangi said some people still think of summer school as a remedial program for students needing to make up for missed work during the school year, but the program has evolved into much more.
"We have worked really hard to help parents and students understand there are a lot more opportunities in our summer session than helping students who may need a little help," Mwangi said. "So we're still addressing those core needs, but we're also going to have a lot of fun this summer."
Adkins said summer school has become an extension of the regular school year that helps fight the academic learning loss that can happen to some students in two and a half months away from the classroom.
"It's important for the students to not only have a safe place but to stay engaged in their learning and working on their reading and math and writing skills," Adkins said. "It just keeps them in the habit of going to school, which really benefits the students when we start back in August."
Sara Meyer, a second grade teacher at Irving Elementary, said she was getting a chance to get to know some of the students she'll be teaching in the coming school year.
"It's a boost to the school year because when these kids come in, they already know our rules and transitioning and how we do things," Meyer said. "I'm building relationships with them and building that foundation because relationships come first. If you don't have that relationship, you don't have anything."
Meyer said summer school is also a chance to help children recover some of the educational time lost over the past couple of years because of the COVID-19 pandemic.
"We've noticed since COVID that kids' scores have regressed a little bit, so we're doing kind of a catch-up to that," Meyer said.
[ad_2]

Source link